0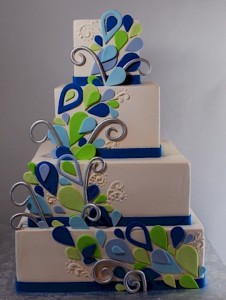 Jenniffer at Cup a Dee Cakes has done it again.  Bloomed out all genius on us.
I know that peacock motifs are hot hot hot right now.  Jenniffer wonders if it has anything to do with Katy Perry.  I wonder if it has to do with the resurgence of Edwardian love we've got goin' on right now. (Vintage once again means something other than 1982.  And I for one am thankful.)
But what I love most about this beautiful cake is the complete absence of feathers.  I personally do not want feathers anywhere near my food, so I'm always a little baffled when I see them trimming a cake.
Jenniffer manages to convey the idea of "peacock" without actually using any of said bird's parts.  And she happens to get double points from me for using shades of my favorite colors, blue and green, to do it.
Love Jenniffer's work?  Me too!  Check out her other cakes that we've featured, like this beautiful bare branches wedding cake, a whimsical he's her lobster groom's cake, and this fantastically wonky rectangular wedding cake.
Read More:
blue and green wedding cakes
,
Georgia wedding cakes
,
peacock wedding cakes