0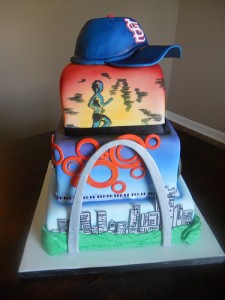 Meet me in St. Louis…ohh Judy Garland. I love you even though you *probably* weren't exactly stable.
And this cake has nothing to do with Judy Garland but it has everything to do with St. Louis. Literally. The bottom tier is a St. Louis skyline and the topper is the beloved cap of the St. Louis Cardinals. And of course the iconic St. Louis arch makes an appearance on the cake. Because really…if the arch weren't there, this would just be a city cake. What better way is there to pay homage to the city where you met and fell in love on your wedding day? I can see New York and Chicago cakes becoming popular this way.
This incredible cake is the handiwork of the uber-talented Renay Zamora Sweetface Cakes of Mount Juliet, Tennessee.  We love Renay so much that we've also featured her beautiful work on this green and black damask cake (one of Brooke's VERY favorite cakes EVER) as well as this flawless Chicago Cubs groom's cake.
Read More:
city scape wedding cakes
,
city themed cakes
,
city themed wedding cakes
,
Renay Zamora
,
st louis cardinal cake
,
st louis themed cake
,
st louis themed wedding cake
,
st louis wedding cake
,
sweet face cakes
,
tennessee cake bakers