0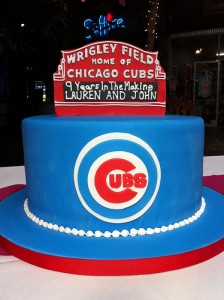 I've always had a thing for Wrigley Field.
This from the girl who just two short weeks ago asked her husband who won the Super Bowl.  (Answer:  The Cardinals…he has learned that I really just don't care enough to attribute the right names to the right sports.  Of course I KNOW the Super Bowl is football if I thought about it.  Most of the time I simply don't care to think).
Anyway.  My thing for Wrigley Field dates back to the first time I saw Sleepless in Seattle and they show a flashback of Sam (Tom Hanks) and Maggie (dead wife) during happier times in Chi-town.  So needless to say I am a diehard Cubs fan. Snort.
However, when I saw this cake and cool topper it made me think of my third favorite movie (first: Singing in the Rain, second: Breakfast at Tiffany's.) I knew it had to be a feature on Cake Topper Friday.  'Cause check out that awesome handmade cake topper made to look like the Wrigley Field sign.  This perfectly executed cake was created by the uber talented Renay Zamora of Sweetface Cakes in Tennessee.  We've featured her work before, with this incredible damask cake (with an equally incredible backstory!)
I love it…do you?  More importantly what are your top three favorite movies?
Read More:
baseball grooms cakes
,
blue grooms cakes
,
Blue Wedding Cakes
,
chicago cake
,
chicago cubs
,
chicago cubs cake
,
chicago wedding cake
,
grooms cake
,
sports grooms cakes
,
sports wedding cakes
,
wrigley field
,
wrigley field cake
,
wrigley field cake topper