0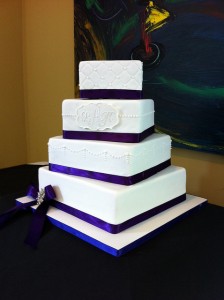 My love of monograms is well documented, as is my love of white on white cakes.  And actually, come to think of it, so is my love of Renay Zamora and Sweet Face Cakes.
But I never tire of any of these elements, or of Renay and her beautiful work.
Renay tells me a lovely story about this cake.  She and the mother of the bride had a rather random connection.  They had served on their church's worship team, but hadn't seen each other in years; however, they recognized one another immediately when they met at the wedding reception!  She said that it was a wonderful surprise to be asked to make Britney's cake, since the bride had been in elementary school at the time that Renay and the bride's mom sang together.  Don't you love cool reunions like that?
I love the contrast of the stark white against the pop of deep purple in the ribbon trim.  The rhinestone brooch – because really, this cake demands some bling – finishes the bow perfectly.  And don't you love the different trim on each layer?  Quilting on the top, simple dots and swags on others, and that ohso classic monogram placard featuring the happy couple's initials.  And if these little touches weren't enough, Renay offsets the four square layers, giving motion to the cake with a slight twist effect.
Visit Renay's website to see more examples of her lovely work.
Read More:
dotted piping wedding cakes
,
fondant wedding cakes
,
monogrammed wedding cakes
,
piped swag wedding cakes
,
purple wedding cakes
,
quilted wedding cakes
,
rhinestone wedding cakes
,
ribbon trimmed wedding cakes
,
tennessee wedding cakes
,
wedding cake bling
,
white on white wedding cakes
,
white wedding cakes