1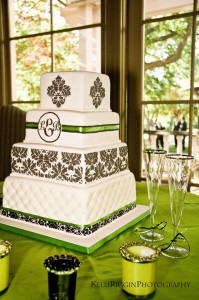 Damask. Is. So. Hot. Right. Now.
But not, Gentle Reader, for your couch. Rather, it is hot for your cake.
Renay Zamora of Sweetface Cakes beautifully serves Middle Tennessee – including Nashville, Mount Juliet, Lebanon, Clarksville, Kingston Springs, Franklin and Murfreesboro.  And Renay, it turns out, is a goddess of damask…as well as gluten-free baking.
You see, that beautiful cake that has captivated you, right next to my words?  Yep.  Gluten free.  Renay tells the story of this special cake, and the bride that goes along with it, so well, that I'm going to let her express it in her own words.
The bride, Lori, wanted her entire cake to be gluten-free.  She had already been to a couple of other bakers and was feeling a bit discouraged with her options regarding the whole gluten-free issue.  She specifically wanted coconut.  We met for a private tasting at Wedding 101 at The Factory in Franklin, Tennessee,   and you could just see the excitement in her eyes when she tasted my gluten-free coconut cake.  We decided on different flavors for each tier: bottom and top were coconut with coconut buttercream filling; next to the bottom was gluten-free chocolate-espresso with chocolate ganache filling; and the next one up was gluten-free red velvet with cream cheese icing.  Her wedding color scheme was black & white damask with splashes of green, and she wanted a monogram, so I came up with a design that included those elements.
But that's not the end of the story.  As the wedding date drew near, Renay became concerned that the planned-for cake would not be enough to feed the guests.  At that point, she made the decision to scale up the size of the cake, and bake each layer a size larger than what the bride ordered.  The day following the wedding, Lori emailed Renay to tell her she thought the cake was bigger, and that she was so touched that Renay went above and beyond for her on her special day.
I heart amazing customer service.  Don't you?  And I'm thrilled to see it alive and well in Tennessee.
So, to sum up, this cake is gorgeous beyond words, and it sounds as though it was more delicious than I can fathom.  But the commitment that Renay showed to making her customer's day so special?  Well, that's beyond gorgeous and delicious.  That's magic.
Read More:
black and green wedding cakes
,
Black Wedding Cakes
,
damask wedding cakes
,
gluten free wedding cakes
,
Green Wedding Cakes
,
Middle Tennessee
,
Middle Tennessee wedding cake bakers
,
monogrammed wedding cakes
,
Renay Zamora
,
Sweetface Cakes