0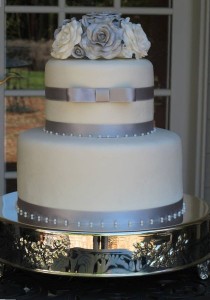 Last week I highlighted my favorite trend for 2012: gold cakes.  This week I've decided to go to the opposite end of the metallic colored spectrum…silver.  While gold is making a resurgence, it's trusty friend silver is still holding strong.  It's like chocolate and white chocolate.  White chocolate might be awesome when you first discover it slathered over pretzels or strawberries.  Then months go by and the white chocolate gets a little old and you need to go back to your old standby…chocolate.  Or in this case…silver.  That analogy was pretty bad.  So I scoured the web…err Pinterest…and came up with my favorite silver cakes.
Like this silver graffiti cake from Sweet and Saucy Shop, featured on TheKnot.com.  It looks a lot like another similar version from Sweet and Saucy, which I named my favorite cake of 2011.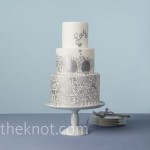 What about this pretty silver and diamond encrusted cake?  I am a girl who loves her sparkle.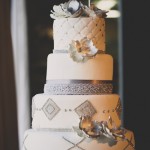 via Style Me Pretty
I personally love these Silver Bell Cake Pops.  Cake Pops dipped in White Chocolate and Silver Sugar Crystals.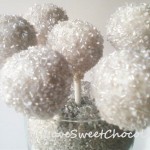 via Love Sweet Chocolate on etsy
I love the twigs on this cake. I am not sure if it's the twigs or the silver color but I think would be awesome for a goth or dark wedding.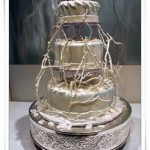 Read More:
silver cake pops
,
silver sugar
,
silver wedding cakes
,
twig wedding cakes