0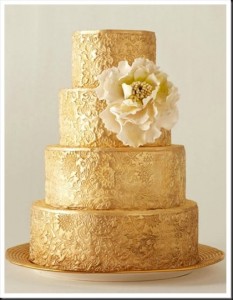 It's 2012 and it's time to start saying "that was sooo 2011″ about everything that we had to have eleven days ago but now is soo not cool.
What was hot in 2011 and (I think) is going to make a strong presence again in 2012 is gold. Gold, gold, gold. I love it. So I decided that for a little hump day treat I would feature some of my favorite gold cakes that have been clogging up my Pinterest file.
Until recently gold got a bad rap. I blame the 80's and gold lame' dresses (I had one..and matching black shoes with a gold lame' bow)  They were Sam & Libby.  Don't hate. Now it's luxurious. Imagine that.
Let's start off with the Gold Embossed Cake above. Ah.  Via Enchanted Dream Wedding.
I love this green, bronze and gold color combination.  Cake courtesy of Marvels Flowers.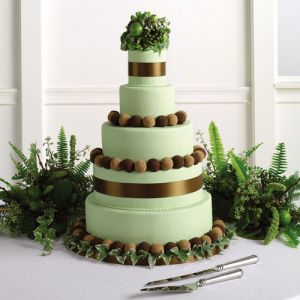 Pink and gold wedding cake?  It must be a creation sent straight from heaven.  Oh wait, it is.  It's made by Martha.  Via Martha Stewart Weddings.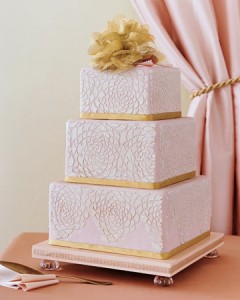 Cuppycakes!  Gold!  Pearls!  Oh my stars!  We found this beauty on The Cupcake Blog, and it was created by Heavenly Cupcakes.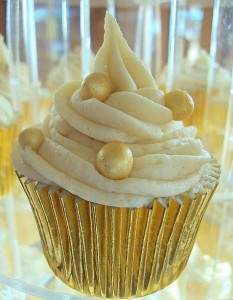 Oh my.  I am on gold overload.  I just love it.  It makes me want to take all my silver accessories and throw them away and drape myself in gold.
Read More:
2012 wedding trends
,
embossed wedding cakes
,
fondant wedding cakes
,
gold and bronze wedding cakes
,
gold and pink wedding cakes
,
gold cupcakes
,
gold embossed wedding cakes
,
gold wedding cakes
,
martha stewart gold wedding cakes
,
pearl cupcakes
,
truffle wedding cakes