2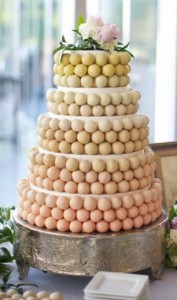 You know, we lurve cake around here in all its permutations…we've featured plenty of cupcakes, mini cakes, and cake pops right alongside beautiful and statuesque wedding cakes.
We do love the whole cake pop trend especially, however (tomorrow, my favorite will be cupcakes, or pie – pronounced /pah/ here in the South.  I'm fickle that way.)  But I digress.  Cake pops are darling and they are yummy, which makes them fabulous.
But how do you artfully display them, without reducing your swanky wedding reception to what looks like a lollipop stand?
This way.  That's how.
I think this display is absolutely fantastic.  When I espied it on Pinterest, I just KNEW I had to feature it.  Rows and rows and rows of pastel cakepop goodness, topped with fabulous, frilly peonies.  Love!  LOVE!!
What are your thoughts?  Could you really forego a traditional wedding cake in favor of a new-fangled approach like cake pops?  Or is this the stuff of an adorable wedding shower dessert table in your opinion?
OH – and we'd love to credit the bakery who made this lovely display.  Let us know if you know the name, and we'll happily link back to them

Read More:
cake pop wedding cakes
,
pastel wedding cakes
,
wedding cake pops
,
wedding dessert tables