1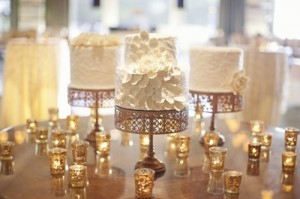 Today's feature has got to be one of my favorites so far! I mean, when I look at the picture it just takes my breath away.
One day down the road – when I take a walk down the aisle – I imagine something like this for my cake. The display is perfect in its simplicity and elegance. I love the idea of using multiple single tier cakes instead of a big one. It's just different. And while we are seeing it more often, people are still reluctant to forego the traditional big cake for a few smaller ones. But the real stars of today's post are the vintage gold cake stands. They add class, elegance, and even MORE beauty to the cake designs. I have to say that whoever is responsible for the staging of this cake table deserves an A++, because in addition to the fabulous cakes and cake stands, the votives finish off the romantic, vintage feel!
I spotted this beauty on Pinterest (yes I know that I may have a slight obsession) and unfortunately could not find out who was responsible for this gorgeous set up…if you know then please let us know!
Read More:
Cake stands
,
floral wedding cakes
,
gold cake stands
,
multiple small wedding cakes
,
multiple wedding cakes
,
single tier cakes
,
small wedding cakes
,
vintage cake stands
,
white and gold wedding cakes
,
white on white wedding cakes
,
white wedding cakes