0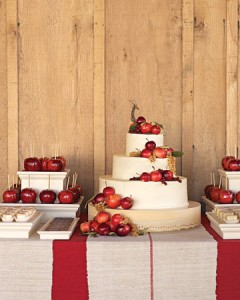 Sometimes, there is just no way to react to a cake, other than….
Sigh.
Isn't this just simplicity and beauty and wholesomeness wrapped up in a tidy little edible confection?  I bring you this cake courtesy of Martha Stewart Weddings.  The cake was made by Karen Menning Porter, the sister of the bride.  Karen apparently owned Tilly's Cakes of Neodesha, Kansas, at the time of the post, but I can no longer find a website

BUT – let's focus on the sweet and pretty, shall we?  This cake was made for a Franklin, Tennessee, wedding.  The bride was Martha's stage manager; the groom was in country singer Josh Turner's band, and the two met when the group performed on Martha's show.   They soon fell in love (obviously) and shared, among other things, a passion for eco-friendly practices.  What does this have to to with anything?  Well, besides being pretty, that cake is organic – Martha's apple spice cake, covered with white chocolate maple frosting, and trimmed with beautiful Tennessee apples.  The cake plate was trimmed with a cut maple veneer which also adorned lampshades in the barn reception venue.  The cake serves as a centerpiece to an adorable sweets table, which also featured candy apples, monogrammed petits fours, and chocolate banjos.  Sweet!
Read More:
apple spice cake
,
apple sweets tables
,
apple wedding cakes
,
fall wedding cakes
,
fruit wedding cakes
,
martha stewart weddings
,
organic wedding cakes
,
red wedding cakes
,
Rustic Wedding Cakes
,
tennessee weddings
,
white wedding cakes