0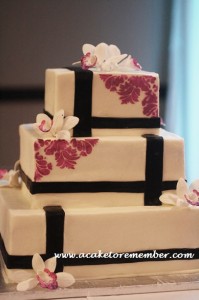 As much as I love a traditional wedding cake, I really dig when I run into something totally different that I haven't seen before, anywhere.  The other day, I ran across this example of just such a cake.
Kara Buntin of A Cake to Remember in Richmond, Virginia, has created some of my favorite cakes, to be sure.  This orchid and black wedding cake just may join the ranks.  I really appreciate the strong structure of the almost geometric black lines juxtaposed with the ultra feminine stencilling in a beautiful shade of orchid.  That Kara chose to finish the cake with orchids (white ones, actually, with just a hint of that warm purple hue) is a nice touch.
When I first looked at the cake, it sort of reminded me of an Asian vibe.  But when I read the description and saw that Kara had decided to term it her "Piet Mondrian-inspired cake," I fell a little more in love.  I've recently grown quite fond of his style, and I love that she took inspiration from it, but made something completely original out of it.
Read More:
artistic wedding cakes
,
black and purple wedding cakes
,
Black Wedding Cakes
,
geometric wedding cakes
,
graphic wedding cakes
,
Orchid Wedding Cakes
,
piet mondrian wedding cakes
,
purple wedding cakes