0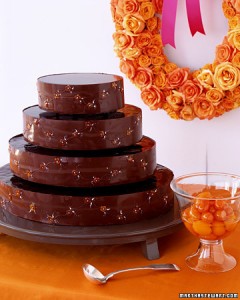 Boys, I'm goin' all fancy on ya today.
Oh, sure, I love themed groom's cakes just as much as the rest of you do. But sometimes, the inner pâtissier in me calls out for something with just a little more refinement, like this incredible Chocolate Kumquat Cake.
Featured on the pages of Martha Stewart Weddings, I don't figure this would be the grandest wish of your run-o'-the-mill groom.  But if you're looking for a winter-time showstopper with some panache, THIS is your cake.  Kumquats, which look like adorably lilliputian oranges and are in season during the winter, yield a pleasantly tart juice, which contrasts beea-utifully with the fruit's sweet skin. The layers of this cake were brushed with a kumquat syrup before being iced with whipped ganache. The whole thing was then finished with shiny ganache glaze on the tops and perfectly tempered chocolate wraps around the sides. And those flowers? Fashioned from kumquats as well. The candied kumquats in the compote (I LOVE alliteration!) are meant to be served with the sliced cake.
Yum, yum, and BEAUTIFUL!
If you love chocolate cakes, check out some of the others we've featured, like this copper and chocolate wedding cake, this chocolate truffle wedding cake, and even this yummy raspberry chocolate cake I made for my husband's birthday!
Do you love chocolate?  Let us know in comments below!
Read More:
chocolate and citrus
,
chocolate and kumquat cake
,
chocolate cake
,
chocolate ganache
,
chocolate grooms cake
,
elegant grooms cake
,
fancy grooms cake
,
martha stewart weddings
,
tempered chocolate