rhinestone wedding cakes
Cake…with jewelry. And why not?
As bakers continue to push the envelope with ever more daring and original designs, we see new trends and patterns emerge. And one trend that has emerged – and appears to be here to stay – is the use of rhinestones on wedding cakes.
Primarily used on cakes for formal or evening weddings, rhinestones can dress up a cake, and can add a level of glamor and sophistication to this traditional wedding showpiece. Most often, we have seen rhinestones used in three ways: as a garnish around the base of a cake, or in some manner as a cake topper, or scattered across the cake.
Rhinestones around the base of the cake normally takes the form of a garland. The garland can be made up of uniform rows of rhinestones, spanning one to four rows wide. In this treatment, the rhinestone garlands are normally placed around the base of each tier to trim the bottom of the layer. As with similar treatments using ribbon, the rhinestones are then removed before the cake is served to avoid guests accidentally ingesting non-edible materials.
Rhinestones can also be used on a cake in the form of a cake topper. Many pretty and elegant cake toppers are fashioned out of rhinestones or other crystals. The toppers can be free form in design, or can be a recognizable object, such as a crown, tiara, or even the couple's initials or their monogram.
Should the couple choose to incorporate a wider use of rhinestones into the cake decoration, bakers can scatter them randomly or in pleasing patterns across the entire cake. For this purpose edible diamonds, or rhinestones, should be used, once again, to avoid a guest accidentally ingesting non-food items. Specialty websites offer sugar "diamonds," which your baker should have no problem obtaining.
Because of the amount of attention that rhinestones draw, often cakes which incorporate the glittery little gems into the design are otherwise fairly simple, or even plain. Typically, the cakes are covered with a simple layer of fondant, in either plain white, or with a pearlized finish. There may be some additional fondant work, or a bit of buttercream piping, but normally, bakers allow the rhinestones to, well, shine.
0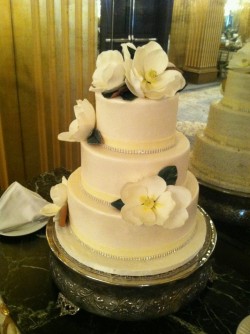 If I can't have pearls, then diamonds will do.  Agreed, girls?
This cake practically drawls at us from the computer screen, doesn't it?  Oh, how I adore Savannah!  Random?  Not really.  For this cake evokes long, slow, sultry walks on the squares, and delicious food, and beautiful architecture, and gracious people.  That's no coincidence, because this cake was created by Savannah's own Custom Cakes.
Sugar magnolias rest on a simple, classic white cake.  The base of each layer is trimmed with ivory ribbon and capped with a double strand of rhinestones, which Read More
0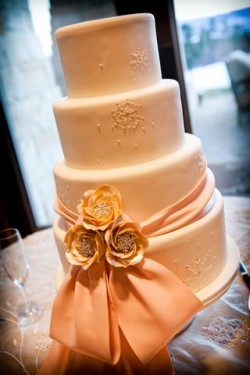 I know that my friends and family in other parts of the country are rrrreeeealllyy super hoping that winter spread its last hurrah recently, when the Facebook posts about falling snow were coming thick and furious.  So to bid adieu (hopefully) to the white stuff, here's a reminder of all that is enchanting and sparkly about it.
There's just something about a snowflake cake!
When I saw this gorgeousness from Rachael Teufel and Company at Intricate Icings, I knew I had to feature it.  The cake was the perfect centerpiece for a breathtaking New Year's Eve wedding in Colorado.  And those aren't Read More
0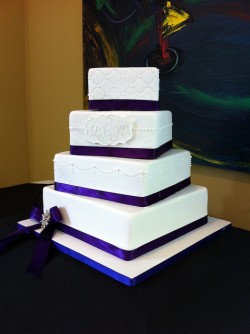 My love of monograms is well documented, as is my love of white on white cakes.  And actually, come to think of it, so is my love of Renay Zamora and Sweet Face Cakes.
But I never tire of any of these elements, or of Renay and her beautiful work.
Renay tells me a lovely story about this cake.  She and the mother of the bride had a rather random connection.  They had served on their church's worship team, but hadn't seen each other in years; however, they recognized one another immediately when they met at Read More
0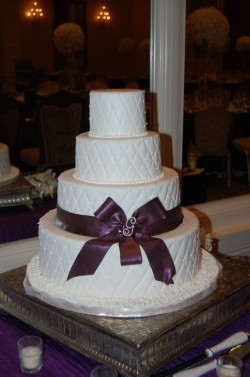 Let's just get classic. It's been awhile since I've done an honest to goodness classic gorgeous cake. This is a four tiered round cake covered in white fondant with a white etched diamond pattern. What does it for me is the gorgeous brown ribbon tied around the base of the second tier. Let's not forget the diamond initial broach in the center. Oh yes…diamonds are a girl's best friend. I love that this cake is classic but has a little bit of bling. This cake was made by Palermo's Custom Cakes and Bakery in New Jersey. You should check out their website Read More
0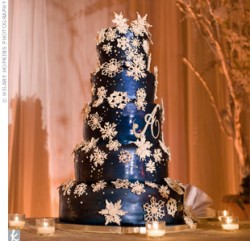 We hope that our greeting finds you happy, healthy, and surrounded by friends and loved ones this beautiful Christmas Day.
We'll be rounding up a little later today – we can't resist the temptation of sneaking off to find all the sweet and pretty that the Read More
0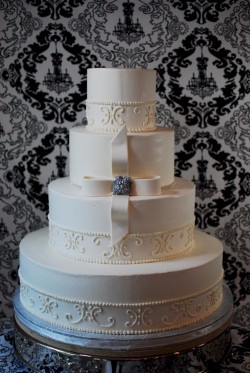 Today, we show another installment in the "all white done right" category.
Jenniffer from Cupadee Cakes consistently turns out beautiful cakes.  This one is no exception.  Four tiers of white buttercream.  Three of the tiers feature a wide piped border, reminiscent in detail of exquisite crown moulding.  Different components make up the border, a combination of fleur-de-lis-like swirls and dots.  On the third layer, Jenniffer fashioned a bow and anchored it with a brooch, both made of gumpaste.  The cake is simple and elegant, Read More
2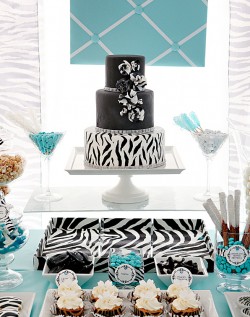 You know, "bold" is very difficult to pull off, because if you aren't careful…if you're too heavy-handed…"bold" can easily become…well… gauche.
Not so with this stunning zebra-striped cake, courtesy of The Couture Cakery in Camp Hill, Pennsylvania.  Jasmine, Couture's owner and cake artist, created the confection as a centerpiece for a sweets table, and brought in the Tiffany Blue as an accent color.
The cake is covered in fondant, and is trimmed Read More
0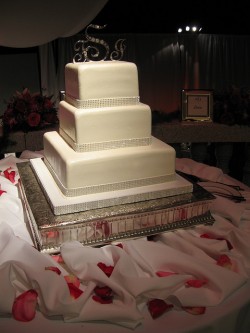 Nine days out of ten, you'll find me reaching for my pearls.  And on day ten, you ask?  Well, diamonds are a girl's best friend, after all.
Isn't this divine?  A cake…that sparkles.  Well, of course!
The combination of bling Read More