0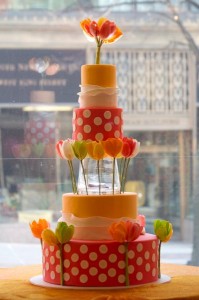 Who needs some spring…like, right this minute?  'Cause I totally have some for you today.
Ah, Pinterest strikes again.  But I love what usually happens to me.  I find something I just adore on Pinterest, which leads me to someone's website, where I find something I adore more.
That's what happened today.  And I just knew that you, my winter weary worn friends, could appreciate this pretty, vibrant cake.  Four whimsical, tall layers of cake in alternating bright yellow and pretty pink and polka dots.  The two top layers of the cake appear to be floating, suspended by tulips!  How lovely!  How fun!  The asymmetrical ruffle trim on a couple of layers, which I just adore, seems to be a trademark of baker Renee Schlotzhauer, owner and cake artist extraordinaire at Bella Manse Cakes of Lancaster, Pennsylvania.  This cake is saying something to you:  "Hold on!  We promise!  Spring is coming!"  And I love this cake for saying it.
Read More:
brightly colored wedding cakes
,
cheerful wedding cakes
,
pennsylvania wedding cakes
,
pink and yellow wedding cakes
,
Pink wedding cakes
,
polka dot wedding cakes
,
spring wedding cakes
,
tulip wedding cakes
,
whimsical wedding cakes
,
yellow wedding cakes