0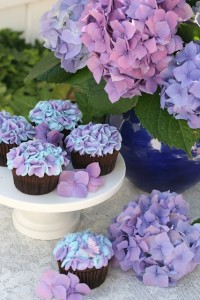 I am declaring this Cupcake Week, y'all!
I've been flirting with the idea for a few days.  I love wedding cakes – obviously – but sometimes, you just have to change things up a bit, yes?  And so, we're going to celebrate the tiny treat that started it all this week.  Before there were baby cakes…before there were cake pops…there were cupcakes.  At every birthday party, at every school holiday party…our collective childhood was filled with the practical and individual serving size.  So it's really no surprise that, as adults, we've taken cupcakes to the next level, making decadent versions, mini works of art, and featuring them at our most important celebrations, like weddings.
And today's cupcake?  This GLORIOUS hydrangea cuppy!  I absolutely adore floppy, mop-toppy hydrangeas in all colors, but especially the periwinkle blue ones.  I found this adorable DIY on Pinterest initially, but click over to Glorious Treats, and you can learn how to make these on your own!  Just in time for Mother's Day or a spring or summer wedding.  I am in love!
Read More:
blue cupcakes
,
floral cupcakes
,
flower cup cakes
,
hydrangea cupcakes
,
hydrangea wedding cakes
,
purple cupcakes
,
spring cup cakes
,
summer cup cakes
,
wedding cakes
,
wedding cup cakes