0
In this corner we have the traditional wedding cake.  The modern wedding cake was introduced in the 20th century and the tiered wedding cake became popular in 1902.
In the other corner we have the cupcake.  The cupcake can actually be traced back to 1796…over one hundred years before the first modern wedding cake.  Their popularity at weddings only happened in the 2000's as cupcakes became trendy.  According to Wikipedia, the cupcakes first gained publicity in 2001 after Magnolia Bakery in New York City was featured on an episode of Sex and the City.  Thank YOU Carrie Bradshaw.
A dilemma many modern brides are having is the great debate between cupcake versus cake.  Which one do you choose?
Well, let me break it down for you:
Wedding Cake
The Tradition. A wedding without a cake seems almost unheard of.  If you were paying attention to my little history lesson at the beginning of this post you remember the the wedding cake only became a fixture of the modern wedding in the 1900's..however since that time it has blown up.  The tradition of the bride and groom cutting the cake is a right of passage into marriage.  Right up there with the best man giving a terribly embarrassing speech.  (Side note, our best man made my husband a t-shirt that said "I'm Jeff's Favorite" as an inside joke.  Jeff was indeed our best man.)  Also, many couples choose to freeze the top tier and eat it on their first wedding anniversary.  I, however, did not. We ate ours on our honeymoon.  I refused to let good cake go to waste.
The Flavors. As we discussed last week, wedding cakes have come a long way from their humble roots as an English Fruit Cake covered in Marzipan.  They come in tiers…and each tier can have a different cake flavor, filling flavor and be covered in butter cream or ganache or fondant.  You can stick with the traditional yellow cake and wow your guest with the filling flavor and the sweet butter cream or get a little exotic-like and go mango.  Depending on the number of guests you are expecting at your wedding you can have anywhere from 3-5 (or 8 if your name is the Duchess of Cambridge) different tiers, each featuring a different flavor – a sure way to please a large group's taste buds.
The Design. A wedding cake can make just as much of a statement (or more) as the wedding gown.  Wedding cakes are truly works of art.  Cakes can range from classic and traditional to original and funky.  A wedding cake depicts the couple's style.  How did my wedding cake depict my style?  Well the tiers were fat, round, and covered in chocolate.  Which is how I would spend most days if I had the opportunity.
The Money. Wedding cakes can be expensive.  Depending on the region of the country in which you live, combined with the size and design of your cake, you can be looking at anywhere from $2.00-$5.00 a slice.  A SLICE.  I know I always enjoy a slice…or two…so you need to order more slices of cake than the number of people who are coming to your wedding.  Add in delivery charges and cake stand rental and a wedding cake budget can be blown in an instant.  Another reason why Fake Cakes are becoming more and more popular.  However, on the flip side of that the wedding cake typically represents about 2% of your wedding budget.  So if you are looking to cut corners it may be smarter to slim down somewhere else rather than skimp on the cake.
The Transportation. While I have never actually witnessed a wedding day cake disaster, it was something I fretted over at my own wedding.  Would the cake get there?  Would it look alright?  Would it fall over in the car on the way over?  Don't worry about all that though.  If you have chosen a trust worthy dependable baker…your cake will be just fine.  They are professionals!
Cupcakes
Originally, featuring cupcakes started as a way to save money compared to the pricier wedding cake.  However, not long after they burst onto the scene they went all rags to riches on us and now are typically not much cheaper than a traditional wedding cake.  Also, most brides opt for a small cutting cake so they can take part in the "cake cutting" tradition which, depending on your bakery, brings the price to right about even.  However, even though the price has leveled out, cupcakes have a lot of pluses.
The Tradition.  Since bakeries have started offering small 6- or 8-inch cutting cakes that allow the bride and groom to do the traditional cake cutting at their wedding.  Let's face it…while cramming an entire cupcake into your new hubb's face MIGHT be the highlight of your wedding, they are a bit awkward to cut.  The cutting cake offers a great solution to that problem.  Also, the tradition of freezing your top tier is a problem here because, well, there typically isn't a top tier.  However, since cupcake bakeries are so popular these days an alternative would be to go to your local cupcake bakery on your anniversary and buy a couple of fresh ones to celebrate with.
The Flavors. Yes, again with the flavors.  However, unlike the traditional wedding cake you are not limited by your tiers.  You can have a wide range of cupcake flavors and you are sure to have something for everyone.  Also, cupcakes have a little bit more variety with flavors than traditional wedding cakes have.  You can get almost any flavor on a wedding cupcake because of the combination of cake and frosting.  Red Velvet…no problem!  Orange Creamsicle…done!
The Design. Here is where the cupcakes lack.  If you've seen one cupcake wedding cake you've seen 'em all.  Generally bakers charge for rental of a cupcake stand.  And while individual cupcakes can look adorable, there are generally very few "that bunch of cupcakes take my breath away" moments.
The Money.  I know, I know…I just talked about how cupcakes really don't save you much if any money…when they are baked by a professional baker.  However, if you are looking to save some money and you are handy with with a whisk and a frosting bag, you can make them yourself.  Cupcake stands can be rented or bought at your local craft stores, and a great way to snazz up homemade cupcakes is to buy a cute paper liner like these from The Baker's Confection on Etsy.com.  Do the math before you set out to DIY your own cupcakes though.  Think about the added cost, such as practice batches and the cake stand.  Also, think about all that added stress on your wedding day.  Even most bakers do not bake their own wedding cake because they know how time consuming and stressful it could be.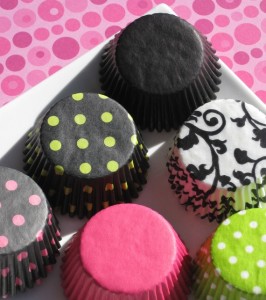 The Transportation. Another plus for cupcakes is that they are very easy to transport.  If your bakery charges for delivery an option would be for you or a friend to pick them up and deliver them to the reception.
So in the smackdown between Cake vs. Cupcake it is tough for me to decide.  Which is why I am glad it is not up to me!  Both cake and cupcakes have their pros and their cons…it's just up to the bride and groom and what their personal preference is for their wedding.
Read More:
chocolate cupcakes
,
cupcake liners
,
cupcake or wedding cake
,
cupcake wedding cakes
,
cupcakes
,
cupcakes versus wedding cake
,
cute cupcake liners
,
red velvet cupcakes
,
traditional wedding cakes