1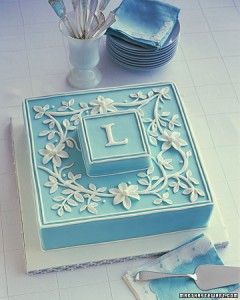 I am shopping for monogrammed stationery; ergo, I am naming this Monogrammed Wedding Cake Week. I know…it's already Wednesday. But there's time to catch up.
I absolutely adore this idea, especially for a small wedding. But even if your gathering is large-ish, what a beautiful cake! And so much prettier than a sheetcake, if you tend to be super practical and cost cutting.
The design was inspired by vintage stationery – love love LOVE. It's so awesome when you take the beauty of everyday, utilitarian things, and translate to something like a wedding cake, don't you think?  I bet that the printer never in a MILLION years gazed off into the middle distance and thought to himself, "Gee, I bet a bride uses this design for her cake someday."
But I totally would. A blue background (natch!), with rolled fondant vining leaves and flowers, frames a smaller cake with the couples' (presumably) shared monogram. It's simple, elegant, and beautiful.
For the complete how to, click on our source link below.
Photo by William Meppem.
Read More:
blue and white wedding cakes
,
Blue Wedding Cakes
,
classic wedding cakes
,
monogram wedding cakes
,
tailored wedding cakes