0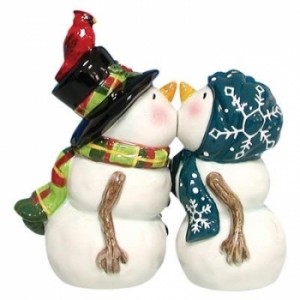 The weather outside is (getting) frightful – at least in the northern half of the country, so this kissing snow people wedding cake topper seems like the perfect item for a cold and blustery winter day.
This cute and frosty couple would be perfect on top of your lovely white wedding cake. They'll fit right in to your winter-themed wedding and as an added bonus, they're also salt and pepper shakers.
So, after they bring smiles to you and your guests on your big day, you'll have a fun and functional item you can use at all your family's winter gatherings.
The groom half of the snow couple is wearing his best top hat and scarf, and even has a bright red cardinal perched on the hat. The bride is wearing a bright blue hat and scarf.
Together they make the cutest couple this side of the North Pole.
I found this wintry cake topper here.
Read More:
Snowman wedding cake
,
snowmen
,
Snowmen cake toppers
,
winter cake toppers
,
winter themed cakes
,
winter wedding cake toppers
,
winter wedding trends
,
winter weddings