dogwood wedding cakes
0
It happens.
As you can imagine, I spend a wee bit of time looking at wedding cakes.  (Okay.  A LOT of time.)  And every once in a while, I find one, and save it, and "ooh" and "ahh" over it…but sorta kinda forget to, you know, note where it came from.
Enter this beautiful cake.
I love LOVE this marbleized technique. And whether it's achieved with fondant or modeling chocolate, I think it's just so cool.  That's obviously what I thought when I saw this one, except I must have gotten so excited that I didn't credit it.
I can't really make out some of the flowers, but I believe the smaller ones are dogwood blossoms, some of my springtime favorites.  And the simple piped beading is a nice finish.
So please, feel free to let me know if you know who baked this lovely cake, because I just HAD to show it to you.  But I certainly love to give credit where it's due.  I'd really enjoy seeing more of their work, or hearing the story behind this one.
0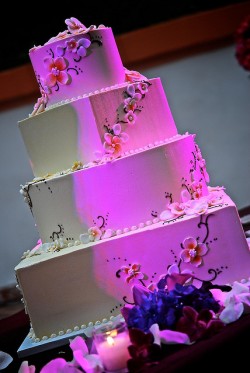 I know, I know.  The angle and lighting are a little funky on this one.  But it's sooooo still worth posting.
I love dogwood blossoms.  We awaited with such joy the blooming of the dogwoods back home, when we knew spring was finally on its way.  And this cake features beautiful versions of the lovely flower, used sparingly and asymmetrically on the various layers.
And speaking of the layers, I love a cake that has alternating shapes.  This one features both squares and rounds, and the second layer from the top is both square AND Read More
1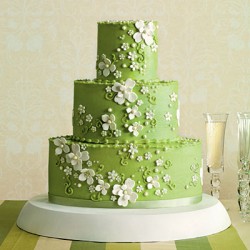 Spring strikes again!
One of my very favorite signs of spring (when I used to live in a place that had such things) were the dogwoods blooming out every season.  Ah.  Breathtaking, and as intoxicating as that first warm day when you are so super tempted to go barefoot through the damp, soft grass.  So this cake caught my eye in about a second.
The vibrant grass green color is the perfect choice Read More