0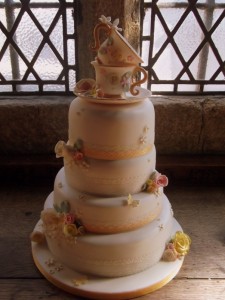 Darlings…we have a new entry in the quest for Brooke's cake heart.
I am a passionate follower of afternoon tea, and I love anything to do with tea time and its rituals.  So when Marianne Kuhn of Dazzlelicious Cakes in Plymouth, England, introduced herself to me on Facebook recently, and I was so glad she did!  Because I instantly fell in love with her cakes, and this one currently has the top place with me. From Marianne, I learned some delightful details about the cake.  The couple wanted only a small cake, but loved Marianne's flavors so much that they ended up asking for four tiers!  They wanted to incorporate the colors of cream and gold, and something invoking the motif of 2 of cups (their tarot card reading, which means "soulmates.")  Marianne knew the bride loved vintage and asked for a color sample of the bride's dress to match details of the cake.  The flavors were chocolate and vanilla, cherry and almond, carrot, and classic fruitcake for the top layer.  The cake was SUCH a hit that people are still talking about it.  And I'm totally thinking I need a teacup cake for my next birthday.
If you LOVE this cake, check out another one of Marianne's masterpieces that I recently featured – this wonderful Gothic Wedding Cake!
Read More:
british wedding cake bakers
,
british wedding cakes
,
english wedding cakes
,
fondant wedding cakes
,
plymouth uk cake bakers
,
special meaning wedding cakes
,
tarot card readings
,
tea cups wedding cakes
,
tea wedding cakes