1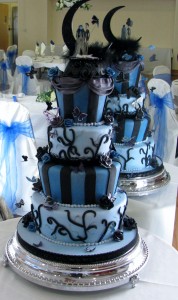 I think I spy Victor Van Dort and his Corpse Bride!
Isn't this fabulous?  This gothic cake by Marianne of Dazzlelicious Cakes in Plymouth, UK, is the talk of the town.  I absolutely LOVE the cool, ghosty blue and black motif. Black and blue roses, y'all!  And swags and swags and stripes and swirls.  This is an amazing cake, and this was a really fun wedding, I just know it.
There is just so much going on here!  Check out the trim on the layers:  pearls on some, black lace on others.  The black crescent moon, and puffy boa.  The butterflies scattered throughout.  I must confess…I'm not a goth girl at heart, but this marriage (ha!) of goth and vintage has me hooked!
Look for more of Marianne's beautiful creations coming up – I'm still holding on to my favorite – and visit her website and Facebook page for even more delightful Sweet and Pretty!
Read More:
black and blue wedding cakes
,
Black Wedding Cakes
,
Blue Wedding Cakes
,
corpse bride wedding cakes
,
ghosty wedding cakes
,
gothic wedding cakes
,
macabre wedding cakes
,
UK wedding cakes
,
vintage wedding cakes