0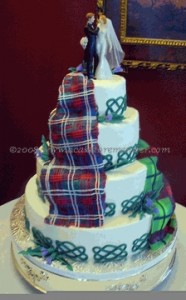 Kara Buntin of A Cake to Remember  of Richmond, Virginia, has created my Dream Wedding Cake.
What is it with me, wedding cake, and chick flicks featuring Julia Roberts?  But here we go again.
Remember that scene in "Steel Magnolias," where the ladies are discussing the wedding decorations in a Pepto-pink church?  And a demure – and very, very young – Julia Roberts remarks "Pink is my signature color."
Well, my "signature color" is plaid.  Seriously.  My husband is convinced that I have lumberjack blood in me.
When I dreamt about my wedding as a girl, the bridesmaids didn't traipse rapturously down the aisle to joyfully await my entrance in peach, or mauve, or baby blue.  They were in tartan, Baby.
So my jaw DROPPED to the ground when I saw this gorgeous cake by Kara (whose cake contest we also featured on our recent let them eat cake roundup) .  And suddenly, I didn't feel quite so out there anymore.
The cake is so lovely and so unique that we actually reached out to Kara to tell us the story about it.  Seems that this talented artist receives lots of requests for "Celtic" cakes, but this one in particular was crafted for an Irish bride and a Scottish groom.  The tartans were hand-painted on white chocolate, and the thistles were fashioned out of gumpaste.  Green Celtic knots symbolizing "no beginning and no end" adorn each layer.  The precise, sharp edges denote a layer of thick buttercream.
I can see the mists, green hills, and craggy cliffs.  I can hear the bag pipes and violins.
Love.
Read More:
A Cake to Remember Richmond
,
Irish
,
Kara Buntin
,
Plaid
,
Scottish
,
Thistles
,
White Chocolate