0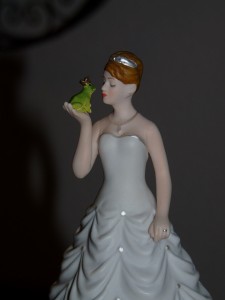 I came across this adorable shot the other day and just had to show you.  Are you the fairytale-loving bride?  Then this one's for you.
Bride, Meet your Prince.  Now smack one on him and hope for the best!
Who should use this topper, do you think?  She who kissed a lot of toads?  He with a green tinge to his skin?
Regardless, I love it.
What do you think of the (Princess) Bride and the Frog? Let us know in comments below!
Read More:
bride and frog cake toppers
,
ceramic cake toppers
,
fairy tale cake toppers
,
funny cake toppers
,
porcelain cake toppers
,
princess and the frog cake toppers