Orchid Wedding Cakes
For the bride and groom who prize something a little exotic and very romantic, consider an orchid cake.
What springs to mind when you hear "orchid cake?" The term can refer to a color, which would normally be a light, though vivid, purple hue. But more often, an orchid cake would feature any number of a variety of the popular tropical flower, or handcrafted gum paste versions, which can be tinted to the couple's preference.
Should a bride or baker choose fresh flowers to garnish a wedding cake, orchids are an excellent choice, because they are edible and non-toxic (provided they are not treated with pesticides.)
Although, as previously mentioned, the color "orchid" normally refers to a light color, they are a diverse bloom, with more than 20,000 known species, and are, as such, available in a variety of hues, from white to green, from pink to purple, and from yellow to orange and even red. And it's not just flowers that we have the humble orchid to thank for; the ubiquitous and wonderfully scented vanilla bean is actually the pod of an orchid plant!
If you would like to garnish a cake with orchids, the rule of thumb would be to stay simple with the design. Orchids, though beautiful, are exotic. To use such a flower on an already highly-embellished cake may just be overkill.
Some of the most popular choices for orchid garnishes include the large, white or green cymbidium orchids, the small, classic light purple, white, or green dendrobium orchids, or even the ethereal phalaenopsis orchid, which is available in white, yellow, pink, or purple.
0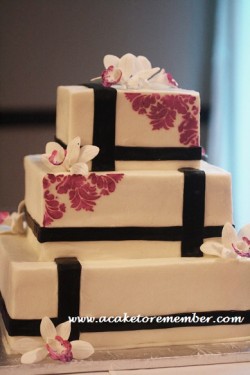 As much as I love a traditional wedding cake, I really dig when I run into something totally different that I haven't seen before, anywhere.  The other day, I ran across this example of just such a cake.
Kara Buntin of A Cake to Remember in Richmond, Virginia, has created some of my favorite cakes, to be sure.  This orchid and black wedding cake just may join the ranks.  I really appreciate the strong structure of the almost geometric black lines juxtaposed with the ultra feminine stencilling in a beautiful shade of orchid.  That Kara chose to Read More
0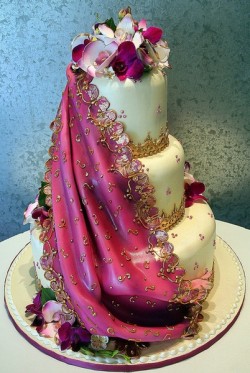 This beautiful sari-inspired wedding cake is the incredible work of Cory Pohlman, head decorator at Rosebud Cakes in Beverly Hills, California.  Elin from Rosebud tells me that the entire family came into the bakery to sample the cake, and wanted something less sweet than a typical American bakery wedding cake.  They wanted unusual flavors that would stand out in the memories of their guests.  The bride also wanted to pull in design elements from her wedding ensemble and her colors, and provided Cory with pictures of these things, as well as photos of other things she liked.  The result was Read More
0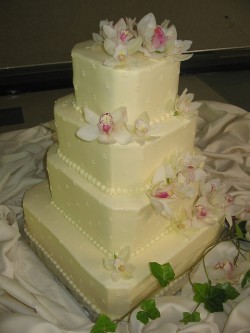 I wanted to show you this cake specifically because of the shape. The orchids are pretty, and the simple design is flawlessly executed, but what I really love is the shape.
So many brides and cake artists are looking to all kinds of embellishments to set their wedding cake apart, that sometimes we forget something as simple as the shape of the cake can make it unique.  One of my very favorite cakes ever was featured in the cookbook Baking with Julia, and was made by Martha Stewart.  It was such a simple cake really, ivory Read More
0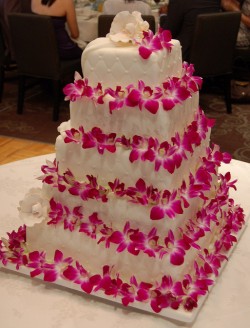 I have a friend from my childhood who married well. Like…her family went to Hawaii last month and are in Florida this week. Sure, they are both business trips for her husband's work…but color me jealous because I have to scrimp and save for end tables from Ikea. This is not to say she married for money because she didn't…she just got super lucky in the rich husband department.
Anyway, while looking through her family photos of their Hawaiian vacation I found myself longing for a glass of pineapple juice and a vase full of hibiscus flowers. Since that won't work we'll just post this lovely cake that Read More
0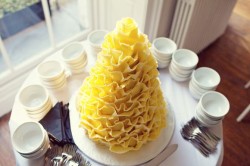 Happy New Year, Everyone!
Yes, I know that technically, I'm a full week behind.  And I know that technically, today is the Epiphany, and the end of Christmas, and not the New Year.  But is anyone else having a hard time cranking up the old machine again, getting on the horse?  I blame Read More
0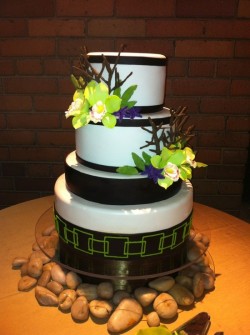 I super need some Zen today.
I am running a half marathon tonight – my first ever race, and I pick a half marathon – and I'm a little nervous about it.  My poor family.  I've been a little on the crabby side this week.
But then I remembered that I had this lovely, Zen-inspired cake tucked away in my "favorites" file for just the right time…and lo and behold, here it is.  Just the right time.
Just looking at this cake calms me the heck down. 
Isn't it elegant?  Four tiers, trimmed in black, Read More
0
I have searched high and low for a gorgeous purple wedding cake. Until today my search had been unsuccessful. Then I stumbled upon this gorgeous Orchid inspired Lilac Wedding Cake. The cake is a three tiered circle cake with a gorgeous lilac fondant layer. A cute orchid design layers the the three tiers. Read More