0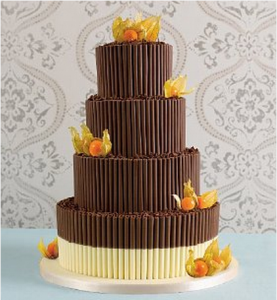 Hey Y'all!  Happy Labor Day Weekend!
I hope you're taking a break from your labor, actually, and having a good time on this, the unofficial last weekend of summer.  And if you, like me, live in a place where school has been back for a few weeks, it probably feels like this milestone came awhile back.
But we can still get out and enjoy each other, yes?
We are off to spend a few hours by the seashore, but I wanted to leave you with a couple of pretty things that I found this week throughout my travels in this abbreviated round-up.
Beautiful yellow wedding flower inspiration from Boho Weddings.
I thought this sweet as tea engagement shoot was pretty adorable.  From Savvy Deets Bridal.
For our DIYers out there, how about these wine glasses made out of wine bottles?  From Valley and Co Lifestyle.
Wedbits, The Dessy Group's Blog, has some lovely chocolate wedding cakes.  I feature one, made by Marks and Spencer, above. It's trimmed with gooseberries, which are uber hot right now.
I adore the double height tiered strawberry cake featured in HWTM Party of Five this week!  Check out the pic in the top left of the link.
Have a safe and Happy Labor Day weekend and a Delicious Week!
Read More:
chocolate wedding cakes
,
diy wine glasses
,
engagement shoots
,
strawberry wedding cakes
,
sweet tea
,
wedding diy
,
yellow wedding flowers