0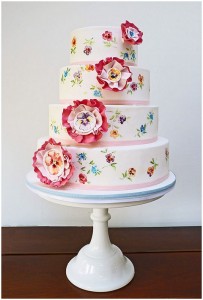 Hello, hello!  How are you this very fine Sunday?  I'm swell, and happy that it's the weekend.
How is the weather in your neck of the woods?  Cool and crisp?  Well…lucky YOU.  'Cause we are totally sweltering here in the southeast.  It happens this way every year, but it's always so tiring…watching everyone else's mercury plummet while ours holds steady.  But in just a few weeks, it will be the dry season…or what we call in Florida…bliss.
Isn't this just the BEST time for weddings, though?  Rich foods, rich colors, and that excitement that just pops from all the fun that's coming with the holidays.  I can't think of a better time for a big celebration.
So, let's see what's new this week!  But first, how 'bout a peek at what we've been up to right here?
On Monday, we showed you this lovely Cinderella Castle Wedding Cake.
Tuesday, we took a look at Non-Traditional Wedding Cake Options in our feature on Wedding Cake Alternatives.
We  couldn't help it! On Wednesday, we showed you this ab fab Pink Marbleized Wedding Cake – even though we don't know who made it!  Do you??
Thursday's cake was not a cake at all, but rather these darling Mini Cheesecake Wedding Cupcakes – and a great recipe, too! (Just check out the Source.)
We celebrated the upcoming release of the Disney Diamond edition of Cinderella on Cake Topper Friday with this beautiful Lenox Cinderella and Prince Charming Cake Topper – complete with a source to get it for yourself!
Batter Up! For the Guys Saturday celebrated the Boys of Summer with this Mets Groom's Cake.
Now, let's see what's going on in the World of Wedding…
Borrowed and Bleu shares some wonderful Rustic Dessert Inspiration.  I love the first cake with the fabulous chocolate satin bow!
French Wedding Style showcases one of our favorite UK cake artists, Nevie-Pie Cakes' Natasha Collins, and her BEAUTIFUL hand painted cakes!  (We featured one here.)  I loved the pansy wedding cake so much, I feature it above!
A nod to home…a beautiful mountaintop wedding in West Virginia, via Gigmasters.
A brand new start up called Bridal Brokerage aims to take the sting out of cancelled weddings for couples, and offer discounts for budget minded brides and grooms.
Not to throw too much of a damper on your day…but as a cautionary tale:  Signs That It Wouldn't Last.  White Wedding.  From HuffPo.
High school sweethearts tie the knot eight years after their first date – at Prom.  Darling.  From Style Me Pretty.  (Love the cake, too!)
Have a Delicious Week!
Read More:
baseball grooms cakes
,
bridal brokerage
,
british wedding cakes
,
cheesecake cupcakes
,
cheesecake wedding cakes
,
cinderella cake toppers
,
cinderella wedding cakes
,
disney wedding cakes
,
fairy tale wedding cakes
,
hand-painted wedding cakes
,
high school sweethearts
,
lenox weddign cake toppers
,
marbleized weddign cakes
,
pansy wedding cakes
,
rustic wedding desserts
,
wedding cake alternatives
,
wedding warning signs
,
west virginia weddings