0
Posted on September 9, 2012 by Brooke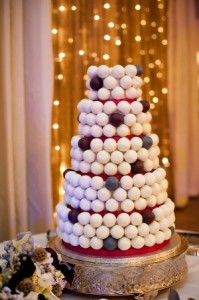 Hiya and Happy Sunday!
As we get back into the swing of school and tailgating season (woohoo!), I'm reminded once more of how utterly terrific and wonderful and fabulous fall is.  Cooler temps (or at least less humidity), new challenges, pretty leaves, and a slew of fun holidays to look forward to!
We're ready to get out there and show you what we found this week.  But before we get started, let's take a look at the coolness we featured here on A Wedding Cake Blog.
On Monday, we featured these darling Bride and Groom Truffle Cupcakes.
Tuesday's cake was a gorgeous Ombre-on-the-inside Red Velvet Wedding Cake.
This Rustic Flower Basket Wedding Cake had us all a-gog on Wednesday.
On Thursday, we got our spooky vibe on with this Raven Wedding Cake.
We went down-home-sweet for Cake Topper Friday, with a Sweet Western Waltz Couple.
And now, for some Sweet and Pretty (and a little dose of wedding news) that we spied elsewhere!
Kelly from Wedding Tidbits shares her idea of the perfect reply card.
Three reasons why autumn is awesome for a wedding, from Weddzilla.  We couldn't agree more (having had picked autumn ourselves.

)
Getting married on the beach?  Here are some great tips for beach wedding makeup from Wedding Chicks.
Looking for some quirky inspiration for your wedding?  Check out this cool post from Austin Wedding Blog about gumballs! The cake I feature above (actually cake pops…but wouldn't gumballs be FUN?) is from the post.
From HuffPo, Celebrity Weddings that Got a Little…Weird this summer.
World's largest wedding cake? Perhaps.
Have a Delicious Week!
Read More:
autumn weddings
,
beach wedding makeup
,
beach weddings
,
cake pops
,
celebrity weddings
,
fall weddings
,
gumballs
,
largest wedding cake
,
reply cards
,
wedding makeup
Recent Posts