0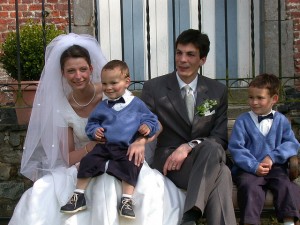 Since we love weddings around here, we've come to know a thing or two about throwing a GREAT one.  Years ago, I read a brilliant book by Miss Manners, a compilation of her best wedding advice, and it influenced my ideas of the perfect wedding a lot.  Take the hot topic of children, for instance. Are they a nuisance at a wedding, or just part of a multi-generational celebration of family and love?  Well, I tend toward the latter opinion, and if you plan to include children in your big day, have a look at our advice below as we kick off a series of longer posts about weddings that will appear each Monday for the next few weeks.  Happy reading!
You love kids!  You enjoy them so much that you can't imagine not having them around on your Big Day, right?  But how much are they really going to dig being at your wedding?  Well, that depends largely on you.  With just a little foresight and some thoughtful planning, you can make your wedding reception a fun day for even the littlest wedding guest – and keep the grumpies and meltdowns to a minimum.
Time of Day.  This is a biggie.  If you know that kids will play a part in your special day, then you should most likely forgo the wedding reception that doesn't even get started until past little Jack or Ella's bedtime.  A happy kid is a fresh kid.  Sleep deprivation and the overstimulation that comes from a big party are not a good combo.  Hold your wedding in the morning or afternoon to minimize this issue.
Formality.  We're not saying that you can't have a white tie, ultra-formal event and invite children.  But we're not suggesting it.  After all, very formal affairs require scratchy, stiff clothes and shoes and fancy hair.  And heaven forbid they drop chocolate cake on that $200 dress!  Tone down the formality, and the kiddoes will likely be more comfortable in cotton and ballet slippers.  Their smiles will be sweeter, too.
Consider the décor.  Keep in mind all of those little hands when you're preparing décor and centerpieces.  Rows and rows of lit candles in crystal holders may seem like a good idea, but, well.  You get our point.  Consider faux tea lights in pretty holders to approximate the look of candles.  You may want to ask your florist about arrangements that don't feature toxic flowers as well…just in case.
Foods for Little Hands.  If your reception will feature food, be sure that you have a few options for toddler palates.  Pate and brie?  Not such popular options with kiddoes.  Fresh fruit and vegetables, mild dips for both, finger sandwiches, and crackers will round out the hors oeuvres table nicely for the under-10 set.  Ask your caterer to have a child's option available for a sit-down dinner.  And consider having a special sweets station for children as well – cookie bars, cakepops, and cupcakes would all be awesome (and hip!) options for your little guests.
Be accessible.  Chances are, if there are children at your wedding, it's because you really love them, and they really love you.  Can you imagine how excited they will be to see you looking so special and pretty?  Although it's tempting not to let sticky fingers and jam-smeared faces within a ten foot radius of your unsurpassed gorgeousness, make time to get down to their level and spend time with the tykes, sparing a hug, a squeal, and a pat just for them.  They will feel super-special as a result, and will likely take the day away as a special memory.
Crafts, please.  "Idle hands are the devil's playthings." True enough.  So we SUPER suggest having a craft or activity for children to work on at the reception, or a play area that's just for them.  Keeping them occupied with something special that they can take home and remember the day by will make for happier children, happier parents, and a more radiant you.  This can be something as simple as a coloring sheet, or something more involved, like these nifty special day kits, which feature stickers and a keep sake photo frame.  Having a close friend to help with the craft is a good idea, too.
A Place for Quiet Time or to Run Around.  Regardless of your best intentions, kids will be kids.  We think it's a really great idea to set aside a couple of areas apart from the reception for parents to take children who might need a little break from the excitement.  Mommies especially will appreciate a quiet place that would be private and suitable for napping and/or nursing.  In addition, consider a wide open space where children can run around a bit, without being scolded for unruly behavior.  After all, you're feeding them sugar.  They are going to have excess energy to burn.
With a little thought and attention, you can make your wedding reception a special time for every guest, whether they are three or ninety-three.  Thinking ahead and planning just a little will ensure that you (and everyone else) will be all smiles on your special day.
Read More:
children at weddings
,
children wedding tips
,
ideas for children at weddings
,
miss manners
,
wedding etiquette
,
Wedding tips