0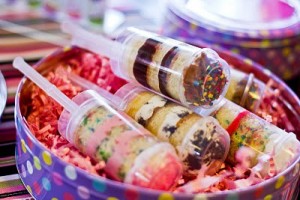 I love making kiddos feel extra-special at weddings.
I know there are a lot of people out there that think kids don't belong at weddings.  I don't happen to be one of them.  Weddings are, essentially, the celebration of our family and friend circles expanding to include a brand new member.  And I can't think of a better way to celebrate that than to have all of our circle present.
But I digress.
If you are in the "kiddos at weddings" camp with me, then you might be looking for a few neat ways to make them feel special.  Or to minimize mess. WHATEVER. Whatever your motivation, these cake pops are crazy silly cute, and perfect for the kids.  Heck, they'd be perfect for a fun take on cake for the grown ups, too.
We found this pic on Pinterest, but we followed the breadcrumb trail right to our own backyard here in Central Florida.  Order these lovely cake push pops from Sprinkles in Winter Park, Florida.
Read More:
cake push pops
,
central florida bakeries
,
kids at weddings
,
wedding push pops