0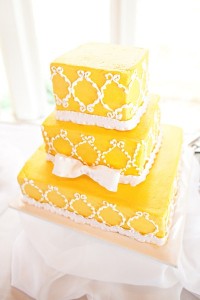 Have you noticed how hot ruffles are right now?
I mean, they've been hot on our blouses and peep toes (and flip flops) for a while, but in the last year, we've seen an abundance (some of my cake artist friends might plead an over abundance) of ruffles on wedding cakes.  From buttercream to fondant, I'd say that ruffles have been one of the hottest wedding cake trends of 2012.  So when you see a LOT of something, it's always fun to see it applied in a new way.
Enter this lovely cake.
Notice the almost rustic look of the lemon yellow buttercream.  I love it!  And the piped design is sweet too.  But what really caught my eye was the ruffled edges of the fondant ribbon and bow.  Darling!  And so unique!
Really, what a great way to set your look apart.  It's also practical.  I'm not a big fan of fondant bows and ribbons – I like the real thing ever so much better – but the crimped edge really dresses these up a bit, and gives them panache.  Well done.
The cake originally appeared on the pages of Style Me Pretty, created by Debbie Dorris and photographed by Kate Leverenz Photography, but we spied it on Pinterest.
Read More:
bow wedding cakes
,
cheerful wedding cakes
,
ribbon wedding cakes
,
ruffle wedding cakes
,
texas wedding cakes
,
yellow wedding cake