cheerful wedding cakes
0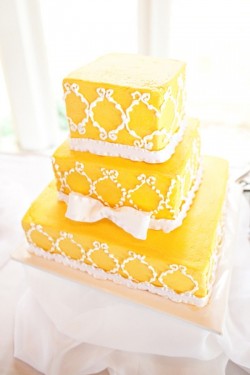 Have you noticed how hot ruffles are right now?
I mean, they've been hot on our blouses and peep toes (and flip flops) for a while, but in the last year, we've seen an abundance (some of my cake artist friends might plead an over abundance) of ruffles on wedding cakes.  From buttercream to fondant, I'd say that ruffles have been one of the hottest wedding cake trends of 2012.  So when you see a LOT of something, it's always fun to see it applied in a new way.
Enter this lovely cake.
Notice the almost Read More
0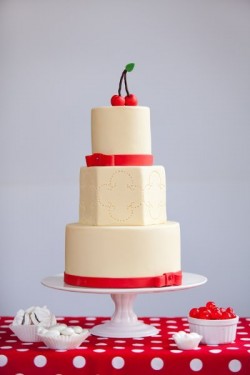 It's cherry season, y'all!  But whether it's July or November, you can feature this cake trimmed in bright red fondant ribbon and maraschino cherries, since the candied cherries are seasonless!
Isn't this darling?  Three double-height layers, and the middle hexagonal in shape, make for an adorable cake. Did you notice the cool cutout design on that middle layer?  And the pop of color from the bright red fondant trim and gumpaste cherries is so cheerful that you can't help but grin.  As if the cake Read More
0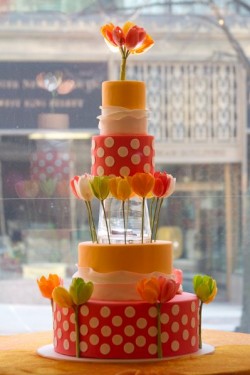 Who needs some spring…like, right this minute?  'Cause I totally have some for you today.
Ah, Pinterest strikes again.  But I love what usually happens to me.  I find something I just adore on Pinterest, which leads me to someone's website, where I find something I adore more.
That's what happened today.  And I just knew that you, my winter weary worn friends, could appreciate this pretty, vibrant cake.  Four whimsical, tall layers of cake in alternating bright yellow and pretty pink and polka dots.  The two top layers of Read More