0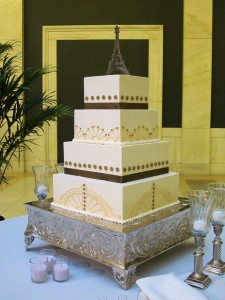 I started to make this cake a feature for Wedding Cake Topper Friday, on account that I heart Paris in the most longing way, and so of course I sighed and swooned when I saw this fabulous cake.  But honestly, the cake is so much more than that topper.  And so here it is, the star of its own post.
I'm a big fan of art deco anyway.  Have you seen Midnight in Paris?  Woody Allen's 2011 Oscar contender straddled the line between present day and 1920s Paris.  I loved it immediately, and this cake, with its art deco motif and La Tour Eiffel topper, takes me right to it.  And there's something so complete about the marriage in art deco of a structured, almost masculine background, softened with flourishes and decorative touches.  I suppose I love the balance and symmetry of it.
And this cake displays it beautifully.  The artist limits the color scheme to three colors:  off white, a deeper cream, and brown.  The motifs of dots and scalloped edges is repeated as well.  The meticulous buttercream is applied to the cake with sharp edges, thus further focusing your attention on the piping, and the setting in which the cake is photographed is equally perfect, as the creamy marble backdrop echoes the color and structure of the cake.  The bees' knees, yes?
Read More:
art deco wedding cakes
,
buttercream wedding cakes
,
eiffel tower wedding cake toppers
,
eiffel tower wedding cakes
,
french inspired wedding cakes
,
masculine wedding cakes
,
structured wedding cakes
,
stylized wedding cakes
,
vintage wedding cakes