0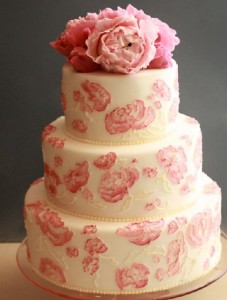 So I'm reading my email this morning, and looking at various websites, and suddenly I discover that I totally missed THE wedding that had been on my radar lately (No…not Brangelina.  The other one.)
It seems that Jessica Biel and Justin Timberlake slipped off to Italy and got married without my knowledge before or even immediately after.  (Clearly, this election and world affairs are cutting into my celebrity gossip reading time.)  The fete included a WEEK LONG PARTY for the 100 guests, which included Andy Samberg, Jimmy Fallon, and Jessica Biel's Seventh Heaven co-star Beverly Mitchell.
The cool, different-y aspect?  The bride wore pink instead of white.  Now, you and I know that this isn't anything new, but still, when a big star does it (and for a first wedding), it still makes news.
And so, in honor of Biel's stunning custom-made petal-pink strapless Giambattista Valli Haute Couture gown, I give you a lovely, petal-pink cake today.  With hand-drawn peonies in shades of blush, and crowned with fresh flowers, this cake is just about perfect.
Congratulations, Jessica and Justin!
Read More:
jessica biel
,
justin timberlake
,
peony wedding cake
,
pink and white wedding cake
,
Pink wedding cake
,
pretty wedding cake