0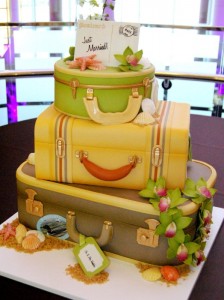 Hola, Everyone! And Happy New Year!
I know we've been a little…well…MIA of late.  There was sickness involved.  And perhaps an impromptu in law visit (don't worry; it was a pleasure.)  And there might be a thing or two besides writing about pretty cakes that I do to bring in the dollars here.
There.  I said it.
But anyway! I'm back!  And I'll be posting at least three times a week for the foreseeable future, and I and my creative team focus on making 2013 an awesome year for A Wedding Cake Blog and all of our readers!
In the meantime, I share with you a cake that is sure to bring sunshine and smiles to the gloomiest of January mornings.  Made by Gateaux in Minneapolis (LOVE THEM), these kind folks know a thing or two about brightening a winter day, yah?  Yah.
Enjoy, and keep tuning in to see all the Sweet and Pretty we're sharing with you!
Read More:
colorful wedding cakes
,
fun wedding cakes
,
minnesota wedding cakes
,
seashell wedding cakes
,
suitcase wedding cakes
,
travel wedding cakes