0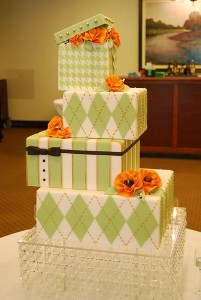 I'm in a unique state of mind this week, y'all.
This box-themed cake is incredible, don't you think?  I love everything about it.  The meticulous execution of the theme (really.  Would you know it was cake if I didn't tell you?)  The colors.  The flawless – and I do mean FLAWLESS designs of argyle, hounds tooth, and stripes.  The off-center stacking that is different than the way we usually see a wonky feature like that applied.  And how about the top "box", with the lid propped up, flowers spilling out?  I love that the cake perfectly blends masculine (with the fabric motifs and bow tie and shirt front) with the more feminine floral touches.  This is a masterpiece.  And the stand!  I love that stand.  What a way to think of every detail, not leaving this amazing cake to a flat end on a generic, foil-covered cakeboard.
This cake is the work of the amazing Gateaux Inc (LOVE that name) in Minneapolis, Minnesota, whose beautiful Silver Pinecone Wedding Cake we featured late last year.
Read More:
argyle wedding cakes
,
box wedding cakes
,
Green Wedding Cakes
,
houndstooth wedding cakes
,
masculine wedding cakes
,
minnesota wedding cakes
,
orange wedding cakes
,
sage wedding cakes
,
structured wedding cakes