0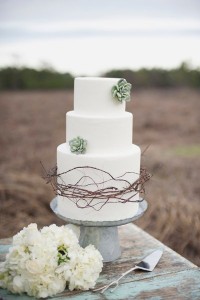 I'm feeling all minimalist-y this morning, y'all.
I didn't think I was. I thought I was feeling all spring-in-bloom-y. But then I spied this beautiful cake, and I realized I was wrong.
Just like the beauty of the summer Texas landscape, this cake captures the essence of less is more. Succulents hint at plants that spend their raindrops wisely. Bramble shows us that pretty can be found any- and everywhere.
My love of succulents on a wedding cake has popped up before. So you're probably not all that shocked. But the sparse character of this tableau is just lovely. The weathered table. The quirky cake server. The tin cakestand. Just. Lovely. All.
Christa Elyce Photography captured the beauty of this cake. We found it on Wedding Wire.
Read More:
bramble wedding cakes
,
succulents wedding cakes
,
summer wedding cakes
,
texas wedding cakes
,
white wedding cakes