0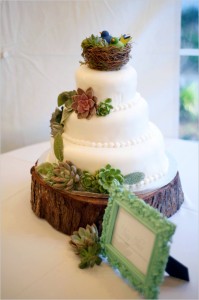 Oh, but the summer vibe just keeps on getting summerier.  That's a word, right?
So, today's cake isn't so much about the cake itself – don't be hatin' on me 'cause it came from Publix Supermarket – but it is about the beautiful way that the bride and groom decided to dress it up with so many darling details.
The cake is the perfect blank slate: white fondant with big, exaggerated, pearl trim.  But what really caught my eye were the succulents trimming the cake (LOVE THEM), as well as the adorable – I mean, CRAZY adorable! – lovebirds nesting on top.  The final touch is the tree trunk cake stand.  Now, you may recall that normally, I'm not so much a big fan of this look, since it's kinda been overused…EXCEPT (and there can always be an except, yes?) when it has personal meaning.  In this instance, the pedestal came from the groom's family home of Lake Norman, North Carolina, one of the prettiest places, well, anywhere.
What do you think?  Do you love this rustic wedding cake?  Leave us a comment and let us know!
Photo Credit:  Stephanie Smith Photography
Read More:
bird nest wedding cakes
,
florida wedding cakes
,
fondant wedding cakes
,
Rustic Wedding Cakes
,
seasonal wedding cakes
,
succulent wedding cakes
,
summer wedding cakes
,
white wedding cakes