0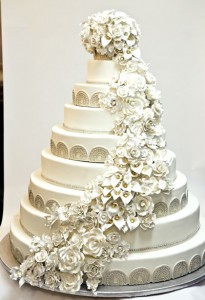 Since it's the start of summer – and the summer wedding season – I thought it would be fun to do some flashback posts featuring outrageous, over-the-top, or just incredibly amazing celebrity wedding cakes. You know, to get us all in the mood for all the wedding cakes we'll be eating this season.
The first cake on my list is the beautiful (and gluten-free) cake that was served at Chelsea Clinton's wedding to Marc Mezvinsky back in 2010.
This nine-tier, 500 pound, 4-foot tall cake was created by a 9-person team at La Tulipe Dessert in New York state. The stunner of a cake featured 1,000 edible sugar roses, hydrangeas, calla lilies, and orchids that were brushed with a pearly accent. The vanilla sponge cake was layered with chocolate mousse which sounds amazing. Oh, and did I mention it was rumored to cost $11,000? That is one seriously incredible celebrity wedding cake.
And I bet it tasted great too.
Read More:
celebrity wedding cakes
,
chelsea clinton's wedding cake
,
edible flowers
,
fondant
,
gluten free wedding cakes