0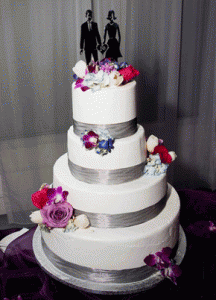 This week's Flashback Friday features another reality TV star – and while they aren't really celebrities – sometimes they do have really amazing wedding cakes.
Jesse Lenoir was a contestant on Project Runway a few years ago, and while his wedding cake is quite incredible I also have to point out that he designed the bridesmaid dresses for his wedding.
But let's talk about this cake.
The wedding took place in Florida back in March 2010, and one of the things I really loved about this cake was that it showcased flowers from the bride's bouquet including hydrangeas, white tulips, roses, and purple and white orchids.
This is such a unique way to keep the floral theme running through the wedding and reception.
The four-tiered cake was created by Creative Cuisine and featured red velvet cake with cream cheese filling, almond cake with raspberry filling, yellow cake with banana filling, and chocolate marble cake with Bailey's ganache filling.
While a couple of these flavors are your run-of-the-mill wedding cake options, I have to say yellow cake with banana filling intrigued  me.
Aside from the unique cake flavors, I also loved the simplicity of this cake's design – just some fresh flowers, silver ribbon around the tiers, and a super cute cake topper featuring the happy couple holding an engraved heart.
As celebrity wedding cakes go, this was was pretty, simple, and exactly what you'd expect from an up-and-coming designer.
Read More:
celebrity wedding cakes
,
colorful wedding flowers
,
Flashback Friday
,
fresh flowers on wedding cakes
,
reality tv star wedding cakes
,
ribbons
,
silver ribbons on wedding cakes
,
wedding cakes with ribbons
,
white wedding cakes