0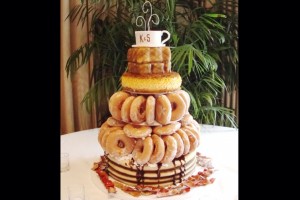 My absolute favorite meal of the day is breakfast. You can do savory and sweet at the same meal – pancakes with maple syrup and a side of sausage links to dip in the syrup is a personal favorite.
So you can imagine my excitement when I came upon this unusual and completely awesome wedding cake that features many of the best breakfast foods out there.
We've featured doughnut wedding cakes on this site before, but I've never seen anything quite like this cake. It's really a piece of art. Delicious art.
Look closely – the bottom tier looks like a stack of pancakes with syrup running down the sides. And, it's surrounded by bacon. Lots of bacon. The next two tiers are glazed donuts. And then there's a tier that looks like hash browns (or at least that's what I think it looks like). I'm hoping it's really cake frosted to look like hash browns. Otherwise, yuck.
And then the top tier looks a little bit like french toast, so that's what I'm calling it. The french toast tier. The whole cake is topped with a great little cake topper that looks like a steaming cup of coffee with the couple's initials, K+S.
This is really one of the most creative cakes I've seen in a long time. You really have to wonder – did the couple love breakfast that much? Or maybe they own a cafe that serves breakfast? Wouldn't you love to know the story behind it?
The cake was created by Perfect Wedding Cake. And I have to say, it's practically perfect in every way.
Read More:
bacon
,
breakfast food wedding cake
,
coffee cup cake topper
,
donut wedding cake
,
doughnuts
,
unusual wedding cakes
,
wedding cakes made of doughnuts
,
wedding cakes made of pancakes
,
wedding doughnuts