0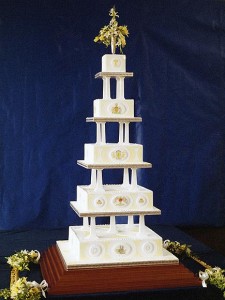 This week's flashback cake takes us all the way back to July 23, 1986 when Prince Andrew married Sarah Ferguson, who became known as Her Royal Highness The Duchess of York, Countess of Inverness, Baroness of Killyleagh, and Princess of the United Kingdom.
Or we can just call her 'Fergie' like everyone else does.
I always liked this royal couple – they seemed a bit more down to earth than Charles and Diana, sort of like an old school William and Catherine – and I was a bit sad when they divorced in 1996.
But maybe you've heard the news this week that Prince Andrew and Fergie are possibly reuniting and rekindling their romance!
As a hopeless romantic, I have to admit this "news" made me smile just a little bit. Which is why I'm featuring their wedding cake today.
This marzipan and rum soaked cake featured five tiers and was created by chefs at the naval supply school HMS Raleigh. The story is that the cake was large enough to be cut into 2,000 slices during the breakfast wedding reception where guests dined on lobster and lamb. Sounds like a perfectly royal reception to me!
(As a side note, I've also seen this cake mentioned as Prince Andrew and Fergie's wedding cake, so I'll admit I'm a bit flummoxed by the dueling cakes. But the very royal looking cake was featured prominently when I searched "Prince Andrew Sarah Ferguson wedding cake" so I'm going with it.)
Read More:
celebrity wedding cakes
,
Flashback Friday
,
floral wedding cakes
,
Prince Andrew and Sarah Ferguson
,
royal wedding cakes
,
royal weddings
,
white wedding cakes