1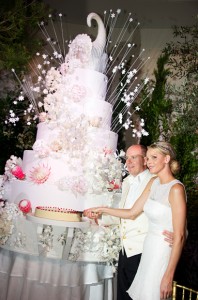 This week's installment of Flashback Friday has a royal twist to it, simply because when I saw this cake I was shocked at its sheer size and just had to share it with all of you.
Apparently when you're part of the royal family of Monaco – the second smallest country in the world at only 1.95 square kilometers in size (that's 0.75 square miles for us non-metric folk) – your wedding cake has to be enormous.
And when Prince Albert of Monaco wed his bride, the lovely Princess Charlene in July 2011 their cake was definitely the centerpiece of the reception.
It was a five tier cake and it dwarfed everyone and everything in the room. It was decorated with Proteas, the national flower of South Africa, which is the home country of Princess Charlene.
The top tiers of the cake featured decorative wands with stars and flowers on them and on the very top was something that resembled a cornucopia. Or maybe it was a seashell. Or maybe it was a seashell cornucopia. Either way, it definitely helped the towering creation look even bigger.
When it came time to cut the monster-sized cake, the couple opted to cut a much, much smaller version. But we're sure there was more than enough cake for all the guests, and quite possible all 37,579 residents of Monaco.
Of all the celebrity cakes we've covered so far, this one is by far the largest and most over-the-top. But we still love it.
The royal couple was also gifted a wedding cake and we featured that cake here.
Read More:
celebrity wedding cakes
,
cornucopia cake toppers
,
floral wedidng cakes
,
Large wedding cakes
,
prince albert and charlene whittlock wedding
,
Prince Albert of Monaco
,
prince albert wedding cake
,
royal wedding cakes
,
royal weddings
,
white wedding cakes