0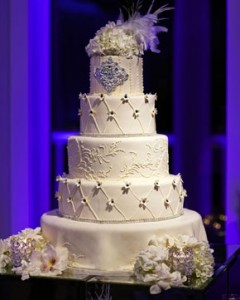 When I saw this cake I instantly adored it, probably because it evokes a little bit of The Great Gatsby vibe with the elegant cake topper and diamond brooch decoration. It's just classically beautiful and elegant.
This four-tiered cake was created for the celebrity wedding of former Survivor contestant Stephenie LaGrossa and Major League Baseball pitcher Kyle Kendrick. Their wedding took place in California in November 2010.
Now the cake itself features lovely floral and lace-like designs on the tiers, but I want to talk about that "diamond" brooch on the top tier. It's made entirely of sugar! It looks so real and so sparkly, so the fact that it's most likely edible is mind-blowing. It really is my favorite part of the entire cake.
And because no wedding is complete without a groom's cake – the chocolate groom's cake was created in the shape of a baseball mit with a ball. Absolutely fitting considering the groom's occupation.
I found this beautiful cake here. Photo credit goes to Catherine Hall Studios.
Read More:
celebrity wedding cakes
,
diamond cake toppers
,
floral wedding cake
,
floral wedding cake toppers
,
white wedding cake
,
white wedding cakes