0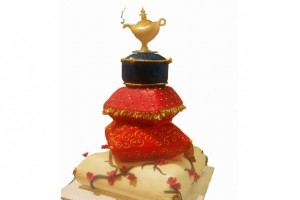 It's Wednesday and since we can all use a little wackiness in our midweek routine, I thought I'd make today "Wacky Wednesday" and feature a cake that is anything but ordinary.
So without further ado, I give you the Genie Wedding Cake.
The four-tier cake would be perfect for any bride and groom who were fans of Disney's Aladdin. It would certainly be an incredible centerpiece at the reception, since it's not often that one sees a genie lamp atop a cake.
Each layer of the cake is fashioned in the shape of a pillow and decorated with beautiful fondant featuring flowers, quilting, and even gold tassels on one cake "pillow." The genie lamp perched on top of the cake layers is dusted with edible gold dust. How amazing is that?
With this wacky but lovely cake, the new couple is bound to have more than three wishes comes true on their wedding day.
This magical cake was designed by Cake Alchemy in New York City. I found it here with a few more unusual and unique wedding cakes.
Read More:
edible gold dust on cakes
,
Genie lamp cake topper
,
Genie wedding cake
,
pillow wedding cake
,
unique wedding cakes
,
wacky Wednesday wedding cake
,
wedding cakes with unique shapes