fall weddings
0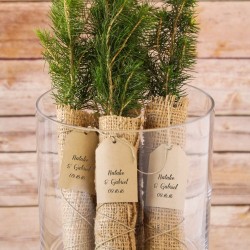 With just over a week left in October it's time to start thinking about your late fall or early winter (gasp!) wedding reception.
Yes, it's true – as much as we want to hold on to the warmer weather winter really is coming and it's best to be prepared to plan a great reception!
I'm loving today's fun wedding favor – personalized evergreen tree seedlings.
These seem like a perfect wedding favor for this time of year – especially as we inch closer to the winter holidays.
Whether you're a tree person or if you're just having a rustic fall wedding, these seedlings are a great fun favor.
Each seedling is individually wrapped in a burlap bag and finished with a complimentary personalized tag.
You can find this favor here.