something blue
0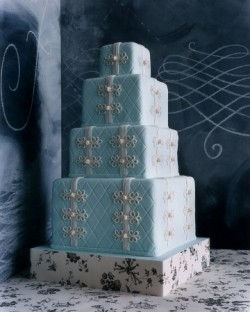 Imagine for a second if your "something blue" was actually your wedding cake!
That would be pretty incredible, especially if you chose something as stunning as this gorgeous blue and white cake.
There's just something about blue wedding cakes that I find intriguing. Every bride should have something blue for good luck on her wedding day so why not make the cake blue? It's certainly not what people are expecting as a wedding cake color. Read More
0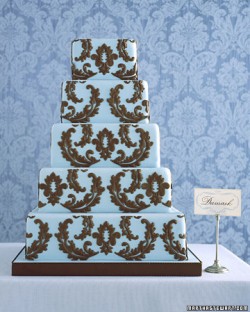 There is something to be said for an elegant wedding cake. And this damask wedding cake is both elegant and beautiful.
We've featured damask cakes here before and each time we do the cake is so incredibly gorgeous that it's almost too pretty to eat.
I love the color combination on this cake more than anything – it's what drew me to the cake, more so than the damask scrollwork.The blue and brown work so well together and they're perfect colors for a late fall or early winter wedding. And with a blue cake, you'll have your "something blue." Read More
0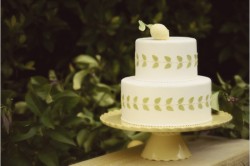 We're getting word from all over the country of April Showers…and a few April Flowers.  Friends in the Southeast are telling us of cold and rainy weather, while pals in the Midwest are crowing about the first irises of the season.  Here in the South, we continue to enjoy lots of sunshine and an early summer as usual.
As our thoughts turn to family traditions and springtime rituals of Easter egg hunts and beautiful bunnies, we are dreaming of Read More