0

Oh yes. We are going there. I was recently having a conversation with a friend of mine about this blog. He was asking me what the point of blogging about cake was. He didn't get it.
I had to explain that a wedding cake isn't just something you see, it's something you taste. If you go to a wedding and their cake is disgusting, you remember. If you go to a wedding and their cake is awesome, you remember. There have been more times than I'd like to count that I take a look at a gorgeous wedding cake and I cannot wait to dive in. Then after about six hours of dancing we FINALLY get to the cake cutting hoopla and I finally get my piece. (Because, of course, their wedding is ALL about me right?) Then after much anticipation…the cake sucks.
Have no fear though, because times they are a changing. Cake bakers are becoming more and more creative, and with alternatives like light and fluffy cupcakes, the traditional wedding cake innards (I LOVE THAT WORD) are becoming equally delicious. From vanilla cake covered in chocolate ganache and frosted with vanilla buttercream to the light and fluffy red velvet with cream cheese icing, cakes are becoming more and more delicious at every wedding I attend.
Inspiration
At the last wedding I went to, the bride (a sorority sister and fellow cake lover) had possibly the best wedding cake I'd ever had. It was mango. Oh yes, a mango vanilla cake filled with mango mousse and topped with buttercream. Can you say heaven…and unusual? I guess that would be heavusual?
This inspired me to think about other possibilities of unique wedding cake flavors that are out there.  For those of us who have eaten one too many slices of chocolate cake with raspberry filling there are tons of new and exciting options.
Time For Some Unique Cake Research
In order to research this properly I had to go eat some cake (tough life).  Since my wedding calendar is empty for the next few months, I had to take it to the source — the source being my local cupcake bakery.  I've had many a run in with these cupcakes at local weddings.
I am typically a fan of their black and white and vanilla with chocolate, but when I set out last week for a taste test in the name of research (or at least this is what I told my husband) I knew I had to go for something a little different.  Not only did these make delicious cupcakes but they would also all make delicious wedding cakes.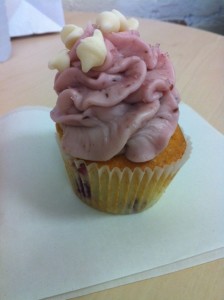 White chocolate raspberry cupcake. Good as a cupcake or wedding cake.
My first choice was White Chocolate Raspberry. Holy moly, this was delicious and unfortunately I had to split this one with my husband since it was his pick. I know what you're thinking…this flavor isn't that unique. In fact, I just hated on chocolate raspberry a few paragraphs ago.
However, white chocolate raspberry is a totally different experience. It was light and creamy and tasted more like cheesecake. Call me Blanche and get me a turquoise and peach jump suit because Christen loves her some cheesecake! (That was a Golden Girls reference if you didn't get it.  Just an fyi, I have always been much more of a Rose than a Blanche…just sayin').
My next pick was Blueberry Cobbler. I had reservations about this one. As I mentioned before I am totally a vanilla and chocolate kind of girl. When you take those things out of the equation and substitute it with fruit…I am NOT okay with that. I was a little concerned this might end up tasting like a muffin with icing, but I was very wrong. The cake part of the blueberry cobbler is just like a vanilla cupcake with blueberries mixed in. It tastes very un-muffiny.
After my friend's delicious Mango Cake I knew I couldn't just stop at my local cupcakery. I had to hit the interwebs and find out about more unique wedding cake flavors. One thing that kept popping up in my brain and on my search engine was "blood orange." Oh yes, today's secret ingredient is blood orange! (That's a Iron Chef reference for those of you who think I have lost my marbles).
Blood Orange wedding cakes are not exactly all the rage to date, but since the popularity of the blood orange has risen in the last few years it is just beginning to make an entrance into the cake world since they are generally more bitter and complex in flavor than regular oranges.  Yum.  Imagine all the possibilities you could do with blood orange: vanilla cake infused with blood orange, chocolate cake with blood orange cream, vanilla cake with blood orange jam covered in chocolate ganache.  Are you salivating yet?  The possibilities are endless.
Next we are going to stay in the citrus family and tackle the lemon.  Now lemon cake is pretty common among the wedding set.  However, pair lemon with interesting combinations like lemon cake with blueberry filling and buttercream or lemon cake with swirls of strawberry syrup and filled with strawberry cream.  Or let's get crazy and do a lemon poppy seed cake with a whipped lemon cream.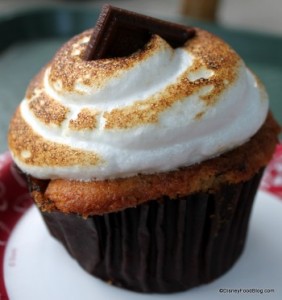 'Smores Cupcake with toasted marshmallow icing
I think know I saved the best for last.  The 'Smores Wedding cake.  Oh yes.  I did get this idea from an episode of the Gilmore Girls.  S'mores have been popular for sometime and have recently made a resurgence into the cupcake world.  Now bakers are beginning to tackle that wonderfulness into wedding cakes.  For a long time S'more wedding favors have been popular.  (Ahem, this may or may not have been the reason why at 6 months pregnant I had a s'more and I didn't stop eating them until my child was born.  I am shocked he wasn't a gooey marshmallow topped with a Hershey bar).  I've also seen gorgeous weddings that include a S'mores bar.  Let's face it, a S'mores flavored wedding cake is a perfect addition to an outside summer wedding. Check out this gorgeous S'more wedding cake.
Do you need more proof? This cake truly deserves a post of its own. Check out the awesome cake that was brought to life by Monkey Treats Bakery in Western New York State. The graham crackers were made out of fondant and the chocolate is melted ganache. The marshmallow is cake covered in fondant icing that was toasted with a blow torch.  On the inside was yellow cake with alternating layers of marshmallow and chocolate ganche. I really wish I HAD a piece of this beauty.
So with this post I feel I have proven two things. 1. I watch far too much television and 2. there are tons and tons of fun and unique wedding cake flavors out there just waiting to be baked!
Read More:
'smore wedding cakes
,
'smore wedding favors
,
blood orange flavored wedding cakes
,
blueberry cupcakes
,
blueberry wedding cakes
,
lemon flavored wedding cakes
,
lemon wedding cakes
,
mango wedding cakes
,
orange wedding cakes
,
smore cupcakes
,
unique wedding cake flavors
,
wedding cupcakes
,
weird wedding cake flavors
,
white chocolate raspberry cupcakes