0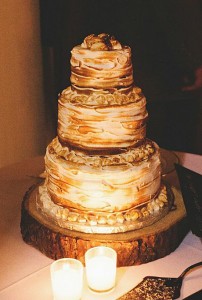 If there's one sweet treat that almost everyone loves it has to be s'mores.
The ooey, gooey marshmallow and melted chocolate sandwiched between graham crackers – well, it's heavenly.
So why wouldn't you want your wedding cake to be a s'mores wedding cake? I can't think of one reason.
This gorgeous wedding cake is that s'mores wedding cake we've all dreamed of and it looks delicious. It is also beautiful so you have a win-win situation when it comes to this cake.
My guess is that this is a chocolate cake with a toasted marshmallow icing – maybe that's what I'm hoping this cake would be made of because that would be amazing.
A wedding cake inspired by s'mores would be so perfect at your early fall wedding. I love the rustic look of the cake and it's something your guests will never expect and there is something to be said for a unique wedding cake!
We found this cake here.
Read More:
brown wedding cakes
,
chocolate wedding cakes
,
fall wedding cakes
,
Rustic Wedding Cakes
,
smores wedding cake
,
unique wedding cakes