square and round wedding cakes
0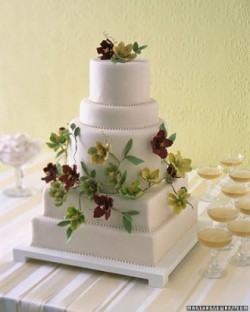 As much as I love seeing a wedding cake adorned with fresh flowers, there is something equally as gorgeous and elegant about sugar flowers.
Not only can sugar flower be beautiful but they're also edible – which is a win-win in my book.
This cake is both elegant and modern. I love that the bottom tiers are square while the top half of the cake features round tiers. It gives the cake just enough of an "edge" without being too over-the-top modern. Read More
0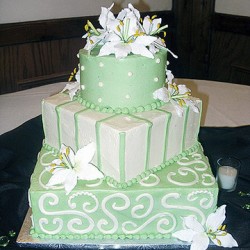 I might have mentioned recently that green isn't a color I often go to, except when it's the holiday season.
However, I am loving this mint green confection and would adore it at any time of the year, holiday season or not.
The color of this cake is so cool and really creates a beautiful cake when paired with the white embellishment and lillies as decoration. Read More
0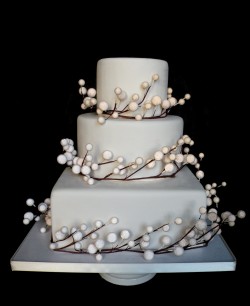 You all know how much I think of Winter (i.e. not much)….but one thing I love is a winter wedding. Snowflakes, glitter, silver and beautiful berries…my heart runneth over.
When I saw this cake I envisioned a lovely bride in Snow White gown, a fur stole and elbow length gloves. The bottom layer is a square shape and the top two tiers are round. I love the mix of the two shapes..it adds a bit of modern flare. Around the base are gorgeous Pearlized Snow Berries. It looks good enough to eat.
Oh but wait..you can't..because Read More