Cascading flowers cake
0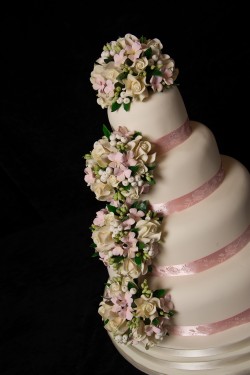 Spring is in the air!
Yes, it's true! The first day of spring is this tomorrow and therefore I'm focusing on all things pretty and floral and springy.
Just like this beautiful wedding cake adorned with balls of flowers.
This gorgeous contemporary wedding cake – called the 'Marlborough' –  is another incredible creation from our friends at Hockleys Cakes in the United Kingdom.
I am in love with this cake. It's so pretty and delicate and just downright gorgeous that I can't imagine wanting to cut into it, no matter how delicious it is! Read More
0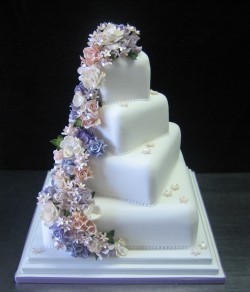 As we're heading into the week of celebrating all things love and Valentine's Day, I wanted to share a cake with you that was so romantic it would make you swoon on the spot.
I'm pretty sure this is the cake.
This gorgeous four-tier creation is from Hockleys Cakes in the United Kingdom and they call it the "Blenheim Cake."
This cake is all about romance and flowers and love, and I adore everything about it.
I love the square tiers on this cake – I'm a big fan of non-traditional shapes when it comes to wedding cakes. (This should come as no surprise, since my wedding cake featured eight heart-shaped tiers!) I think the square tiers give it a nice, modern contemporary feel.
The gorgeous and simple white icing  with the pearls around each tier give this cake a dramatic and modern look.
But what I love most is the cascade of flowers down the side of the cake. The bride wanted the flowers to replicate her bouquet – which is a genius idea in my book! Hockleys created these flowers with hand crafted white, pink, and violet sugar roses and other dainty buds.
It's incredibly romantic, don't you think?
A big thanks to Hockleys Cakes for sharing this creation with us!
Photo courtesy of Hockleys Cakes.
0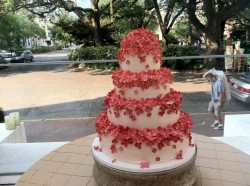 Wedding trends come and wedding trends go, but since the dawn of the Martha Stewart age, be-flowered cakes seem to be here to stay.  And I'm just fine with that.
When I saw this beautiful cake by Custom Cakes of Savannah, Georgia, I knew we had to feature it.  Four stacked tiers, covered with smooth white fondant and covered Read More